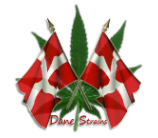 Dane Strains: Pineapple Haze
Aqui encuentras una descripcion de la variedad Pineapple Haze y ademas evaluaciones de usuarios que han publicado sus opiniones sobre esta variedad de cannabis en el SeedFinder. Aqui puedes tambien encontrar ofertas y subastas si Pineapple Haze esta en el almacen de MyCannapot.
Informaciones sobre la variedad:
Pineapple Haze Auto (Lowryder X Amnesia Haze / Kerela Kush) x Dane's White Pineapple Flowering Time: ~ 9-10weeks from seed Hight: 70cm - 90cm Yield: 500gr pr. m2 Taste: Pineapple Aroma: Oldschool Haze Pineapple Haze is the result of our uplifting White Pineapple crossed with selected Amnezia Haze auto. The variety becomes approximately 80-100cm under optimal conditions and with rock hard buds. The plants do not differ much in height, making it easy to work with. The scent is acidic with a hint of spice. The taste is slightly earthy with tones of sweet fruit. The smoke gives a glorious uphigh the first 30 minutes of the White Pineapple. But then gives an aphoric high from Amnezia Hazen.
Genetica:

ruderalis/indica/sativa

Tiempo de floracion:

~ 70 Dias
Compra Pineapple Haze en MyCannapot!
Ofertas actuales:
13 reg. Seeds

solo 14.60 $
Subastas actuales:
Actualmente no hay subastas de Pineapple Haze .