MadCat's Backyard Stash: Medi Bubblegum
Aqui encuentras una descripcion de la variedad Medi Bubblegum y ademas evaluaciones de usuarios que han publicado sus opiniones sobre esta variedad de cannabis en el SeedFinder. Aqui puedes tambien encontrar ofertas y subastas si Medi Bubblegum esta en el almacen de MyCannapot.
Informaciones sobre la variedad:
Medi Bubblegum ( Bubblegum Kush x Medi Blue-n-Blond ) Although the Blue-n-Blond knocked the bubblegum flavor right out of the specialized Kush, It left a taller, stronger, darker leafed plant for us to behold. This pretty girl grows up fast and reveal's it's sex early on in the vegetative stage. A delight to grow…. Using 3 to 5 gallon pot's / Minimizing Space Flavor: Dank Indica Growing Difficulty: Easy Grow: Outdoor-Indoor Flowering: 70 days +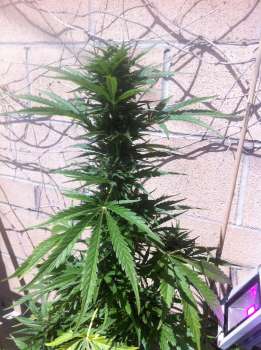 Genetica:

mostly indica

Tiempo de floracion:

~ 70 Dias
Medi Bubblegum actualmente no esta disponible en nuestra tienda!
Intentalo otra vez mas tarde - quizas la variedad estara disponible muy pronto en MyCannapot!