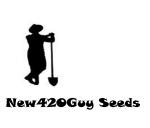 New420Guy Seeds: Blue Tahoe
Here you can find a strain description about Blue Tahoe and also some user-based reviews and infos directly from the SeedFinder (if available). You can also find the offers and auctions here if Blue Tahoe cannabis seeds are on stock at MyCannapot right now.
Type: mostly indica
Flowering time: ~ 67 days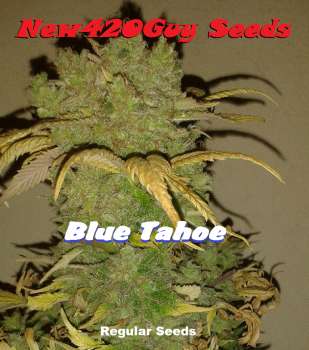 more pictures
SeedFinder Info about the strain Blue Tahoe from New420Guy Seeds:
Blue Tahoe (Blueberry x Tahoe OG) A mostly indica F2 hybrid, she does very well inside and outside, producing lots of large fat buds loaded with trichromes and a LOUD fragrance. There are several different phenos, including a sativa pheno, but the more prominent two pheno types produce either a strong Tahoe OG aroma or a strong blueberry aroma. This is a VERY strong smelling strain. This strain is so excellent that we made several crosses with it. Blue Tahoe is good for pain, nausea, insomia, depression or stress. Flowering period is 9-10 weeks.
1 user reviews about this strain
General Impression: a quite good strain
Strength / Lasting Effect: is very strong and long lasting
1 Indoor-Review(s):
Yield / Quantity: ordinary
Flowering Time Indoor: 70 - 70 days (~70 days)
User-Comments about this strain:
46nkid Grown in organic soil under a 600w. Not really much of a taste, besides a very smooth feel. The look of it was pretty average as well, as was the grow. However, once you bust open those rock hard nuggets and get a few puffs down, it's in a whole league of its own.

I experience chronic nausea and I often get so bloated, and frankly gassy, that I really can't do anything besides sit down and wait to feel better. After rolling up a hooter of this though, I was feeling exponentially better in just couple pulls. Not only did my stomach feel better, I felt so warm and fuzzy lying down on my couch it was like we were becoming one lol. It was very, very, pleasant.

If my situation sounds like yours, I cannot recommend this strain more; cured my war zone of a gastric system in a matter of minutes. But even if you have the least sour of stomachs, you should still give this strain a try. Not to be missed.
Buy Blue Tahoe now at MyCannapot!
Actual offers:
There are no actual offers at the shop right now, but check out the auctions below!