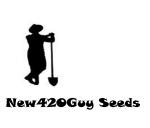 New420Guy Seeds: R 4
Here you can find a strain description about R 4 and also some user-based reviews and infos directly from the SeedFinder (if available). You can also find the offers and auctions here if R 4 cannabis seeds are on stock at MyCannapot right now.
Type: indica/sativa
Flowering time: ~ 75 days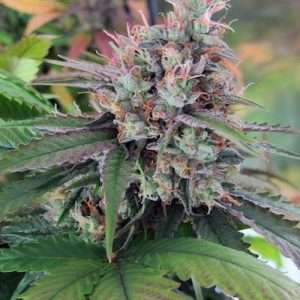 SeedFinder Info about the strain R4 from New420Guy Seeds:
R4 is a rather elusive high CBD hybrid strain created through a combination of Wu #1 (a mix of Reclining Buddha x Heartland Cream) x Blueberry Haze. The average CBD level bottoms out at 20% and THC level of less than 1%. People are amazed once they find out that the CBD level has been tested as high as 79% in concentrates of R4.

We removed this strain previously due to germination problems, but we are very happy to present it again thanks to our friend and breeder Rich Kehrer who has been working on this inbreed line of R4 and other CBD strains for several years.

This bud has super leafy rounded spade-shaped bright neon green nugs with light minty green patches and lots of super thin bright orange hairs. There are sparse clear crystal trichomes and droplets of sweet sticky resin that can be seen on each leaf. The exact flavor of R4 is unknown, although it is said to be very delicate and fruity in nature, with hints of blueberry and haze as well as earthy pine. The aroma is said to be mild and sweetly fruity with berry overtones and a hint of haze. Because of its high CBD level, the R4 high is very mild in nature. Rather than having any heavy effects that come from THC, R4 leaves you uplifted, pain free, and motivated. You'll feel any mental and physical pain completely wash away with a sense of overall calm and relaxation. It is great for pain relief, gastrointestinal issues, AIDS, stress, and ADD. Also good for PTSD.

Flowering time: 9-10 weeks.
R 4 is not available at our shop at the moment!
Please try again later, maybe it is restocked again soon!