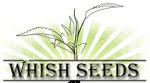 Whish Seeds @ SeedFinder
Whish Seeds
Established in 2008, Whish-Seeds began producing seeds to address the lack of high quality strains bred for medicinal value in local compassion clubs. With a focus on quality over quantity of strains, rest assured that each of our varieties represent years of work and dedication.
Strains from Whish Seeds
Have a click on a strain to get more informations and special offers.