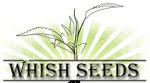 Whish Seeds: Strawberry Kush
Here you can find a strain description about Strawberry Kush and also some user-based reviews and infos directly from the SeedFinder (if available). You can also find the offers and auctions here if Strawberry Kush cannabis seeds are on stock at MyCannapot right now.
Type: mostly indica
Flowering time: ~ 55 days

SeedFinder Info about the strain Strawberry Kush from Whish Seeds:
As one of our most flavorful and aromatic varieties, Strawberry Kush has become a tempting delight that is hard to resist. The Bubba Kush (Bubblegum X OG Kush) mother, a short squat indica originally obtained as a clone from the MCCG, was always slow to veg and had less then spectacular yields, but produced some of the stinkiest - rock hard buds imaginable. After numerous hybrids were made over the years, eventually it became a small part of our Strawberry Cough breeding program. The outcome was undeniably worth pursuing further. While it is not new, after many outstanding reviews from medical patients, this is the first time we are releasing it publicly. Expect to see strong, vigorous plants with mild variation in expression with some leaning more towards either parent.It is excellent for day time pain relief, appetite stimulation, and anxiety. While it will happily adapt to hydroponic systems, it prefers somewhat dry conditions with low humidity and high levels of nutrients.

Genetics: Strawberry Cough X Bubba Kush
Indica / Sativa: 60 / 40
Grow Location: Indoors
Flowering: 7 - 8 Weeks
Yield: Average
Buy Strawberry Kush now at MyCannapot!
Actual offers:
There are no actual offers at the shop right now, but check out the auctions below!