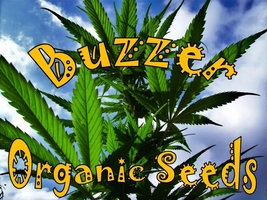 Buzzer Organic Seeds: Amsterdam Plant aka. Anti Asthma Pflanze
Here you can find a strain description about Amsterdam Plant aka. Anti Asthma Pflanze and also some user-based reviews and infos directly from the SeedFinder (if available). You can also find the offers and auctions here if Amsterdam Plant aka. Anti Asthma Pflanze cannabis seeds are on stock at MyCannapot right now.
Type: mostly indica
Flowering time: ~ 60 days

SeedFinder Info about the strain Amsterdam Plant from Buzzer Organic Seeds:
Parents: Unknown Seed Mix from Amsterdam; Indica dominance

Growing pattern:
- Short internodes
- Very bushy plant
- A lot of big, compact Buds
- Big leaves
- Thick branches
- Heavy resin production
- Very high stress resistance
- Short flowering time

Smell: Very strong smel; A bit of compost and fermentation; Minty, woody with lemon undertones
Taste: Hash; Pine; Minty; Woody; Chocolate

Effect:
Early flowering stage:High; Euforic; Lift the spirit (soaring); Body relaxing
Main flowering stage: Stoned, but clear; Relaxing body buzz; Meditative
Late flowering stage: Body buzz; mild effects

Medical effects:
- Best for Asthma
- All kinds of pain
1 user reviews about this strain
Impression Générale: fou bon variété - absolument recommandable
1 Indoor-Review(s):
Impression Générale: fou bon variété - absolument recommandable
Allongement après introduction de la floraison: ~78 pour cent
Introduction de la floraison d'environ 45 cm. - Hauteur final sur environ 80 cm.
User-Comments about this strain:
KaschgarBioweed Toller F 1 Hybrid der doch etwas mehr Indica -Eigenschaften hat.

-Vielen Dank Buzzer für das Vertrauen sie testen zu dürfen.-Echt gelungene Plant,-auch Indoor im Vergleich zu Mickey-Kush (TGA-Subcool) und der Chocolate-Chunk (T.H.Seeds) muß Sie sich echt nicht verstecken.

-Ich denke sie würde sich auch vorzüglich als Hashplant eignen bei den Harzbesatz an grossen Harztröpfchen die sie jetzt schon hat.

-Sicher der Taste wird einigen zu würzig sein,-doch andere wie ich lieben genau so Plants ;)

-Sie ist auch der top-umfassenden Beschreibung entsprechend,-Respekt + gerne wieder .

-Es fing in Neem-Netzcoins mit etwas Terra-Preta vermischt unter 30Watt COB-LED (-Blau) an.-Dann umtopfen in etwa 8 Liter Smartpots und Veggi unter insgesamt 265 W LED-Pannels für etwa 25 Tage und bei 40-50 cm ins Blütezelt mit (Growbox S)und 400W LED-Solo,-ohne LED.

Es ware je 2 Girls und 2 Males,-wobei 1 Male umgesiedelt wurde wegen ++++ ,-die anderen sind in allen Aspekten 1 Phenotyp.

-Doch das erhaltene Male war ein anderer Pheno als die andern 3 .

-beide sind jetzt (-beschnitten) auf 80 cm.-In etwa nen Monat werde ich den Rest berichten,-THX Buzzer + lG O.-Preta
Buy Amsterdam Plant aka. Anti Asthma Pflanze now at MyCannapot!
Actual offers:
There are no actual offers at the shop right now, but check out the auctions below!