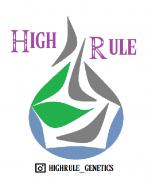 Highrule Genetics @ SeedFinder
Highrule Genetics
HighRule genetics was created by Dan, a biochemist, who works at a university in Nevada. Combining decades of cannabis use, and research. Dan has pushed for the highest quality cannabis strains. Strains with unmatched return on hash. Flavors and effects that will please everyone. Dan is a patient himself and puts patients and veterans before anything. Highrule genetics is more than a product. Highrule is a place you can reach in your mind. a land of greenery and flowing water, a private place to go for peace and relaxation.
Strains from Highrule Genetics
Have a click on a strain to get more informations and special offers.