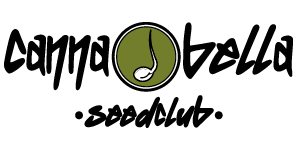 Cannabella Seed Club @ SeedFinder
Cannabella Seed Club
The Cannabella Seed Club is a grower & breeder collective. Our philosophy is to breed unique Cannabis strains available for everyone. We are producing high-quality seeds from well-chosen genetic material. Working successfully with our plants for a long time and selecting special varieties with unique traits. Especially the smell/taste and the active substance composition, which should be medical and effective, are important for us but vitality and productivity of the plants are still in focus. We want to offer the best of our selections and interesting crosses exclusively at MyCannapot. We wish you good luck and success with our varieties.
Strains from Cannabella Seed Club
Have a click on a strain to get more informations and special offers.
| Name of the strain | | | | |
| --- | --- | --- | --- | --- |
| Bella Ortega | | ~56 | | |
| Blackberry Kush | | ~58 | | |
| Blue Cherry Kush | | ~53 | | |
| Chem Berry OG | | ~60 | | |
| G13 SSH | | ~75 | | |
| Grape Skunk | | ~58 | | |
| Grüne Brille | | ~56 | | |
| Iced Pineapple | | ~54 | | |
| Indoor Mix 1 | | ~60 | | |
| Lemon Cream Pie Haze | | ~60 | | |
| Pineapple Gold | | ~60 | | |
| Pineapple Haze | | ~70 | | |
| PineappleHaze V2 | | ~65 | | |
| Sour Candy Amnesia | | ~70 | | |
| Sour Lemon Haze | | ~60 | | |
| Sour Mango Haze | | ~73 | | |
| Strawberry Cream Pie | | ~56 | | |
| Super Sour Lemon Haze aka. Diamond Haze | | ~65 | | |