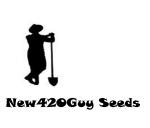 New420Guy Seeds @ SeedFinder
New420Guy Seeds
Master grower and breeder, Paul learned to grow cannabis many years ago from friends in Mendocino. He started breeding in 2006 and for several years he experimented with genetics from many different seed banks. The first keeper strains were created in 2009 (Grape 48 aka Purple AK48) and 2010 (Pauls Purple Fire) and he began producing those strains for the public in 2011 and 2012. Since then, he has traded strains with lots of friends and created several more new awesome strains. In 2014, Paul teamed up with several reputable breeders to keep up with the demand for lots of new high potency strains. In 2020, we celebrated our 10th Anniversary!! Growing cannabis is my passion, and I plan to continue to keep breeding and cross breeding as long as I can.
Strains from New420Guy Seeds
Have a click on a strain to get more informations and special offers.
| Name of the strain | | | | |
| --- | --- | --- | --- | --- |
| 3 Run Homer | | ~60 | | |
| 859 Granddaddy's Blue Cheese | | ~60 | | |
| Berry Ryder | | ~60 | | |
| Black N Blue | | ~60 | | |
| Blue Cheese | | ~60 | | |
| Blue Headwreck | | ~60 | | |
| Blue Tahoe Cheese | | ~60 | | |
| Blueberry Cookies | | ~60 | | |
| Blueberry Rox | | ~60 | | |
| Bubba-Gum Kush | | ~60 | | |
| Cosmic Lights | | ~60 | | |
| Early Skunk | | ~60 | | |
| Electric Maui | | ~67 | | |
| GDP Wreck | | ~60 | | |
| Girl Scout Cookies | | ~65 | | |
| Glue Cookies | | ~63 | | |
| Granddad's Lavender | | ~60 | | |
| Granddaddy Purple | | ~60 | | |
| Granddads Blue Cheese | | ~60 | | |
| Jedi Glue | | ~63 | | |
| La Berry Fruta | | ~80 | | |
| Lavender | | ~60 | | |
| Master Orange | | ~63 | | |
| Mazar i-Shariff x Mazar i-Shariff | | ~63 | | |
| Medijuana | | ~60 | | |
| Mi5 Auto | | ~65 | | |
| Midnight Cheese | | ~60 | | |
| New Grape 48 | | ~60 | | |
| Original Grape 48 | | ~67 | | |
| Panama Red | | ~77 | | |
| Pauls Blackberry Fire | | ~60 | | |
| Pauls Crystal Aurora | | ~63 | | |
| Pauls Purple Fire | | ~60 | | |
| Pennywise | | ~64 | | |
| Pibeurt | | ~60 | | |
| Pine Tar Kush | | ~56 | | |
| Post Traumatic Purple | | ~60 | | |
| Power Glue | | ~63 | | |
| Pre 98 Bubba Kush | | ~67 | | |
| Purple Berry Playboy | | ~60 | | |
| Purple Maze Kush | | ~63 | | |
| Purple Wreck | | ~60 | | |
| Rogue One | | ~75 | | |
| Rusty Glue | | ~60 | | |
| Santa Marta Colombian Gold | | ~74 | | |
| SFV OG Kush | | ~56 | | |
| Shock Trauma | | ~60 | | |
| Skywalker Kush | | ~67 | | |
| Sour 60 | | ~60 | | |
| Sour Lowryder 2 | | ~53 | | |
| Sour Plums | | ~70 | | |
| Sugar Camp Fire | | ~60 | | |
| Super Silver Haze | | ~63 | | |
| Super Sour CBD | | ~77 | | |
| Tahoe OG | | ~63 | | |
| Tajikistani Hash Plant | | ~60 | | |
| The Force | | ~65 | | |
| Trainwreck | | ~60 | | |
| White Widow | | ~63 | | |
| Widow Shocker | | ~73 | | |