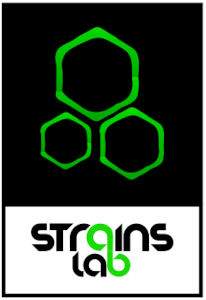 Strains Lab @ SeedFinder
Strains Lab
Strains Lab is the result of a long journey by an Italian breeder across Europe, which began in 2012 and ended in Spain in 2020, with the launch of its first genetics. Strains Lab is mainly focused on terpenic research and, with the help of several breeders friends around the continent, is increasingly specializing in the use of Landraces and old school genetics.
Strains from Strains Lab
Have a click on a strain to get more informations and special offers.
| Name of the strain | | | | |
| --- | --- | --- | --- | --- |
| Cheech Bomb | | ~60 | | |
| Cheech Island | | ~67 | | |
| Cheech Island x Tropisour | | ~60 | | |
| Hammer Island | | ~60 | | |
| Hammer Juice | | ~55 | | |
| Hammer Juice x Toxic Cherry Bomb | | ~60 | | |
| Hammer Zest #7 | | ~60 | | |
| Toxic Cherry Bomb | | ~45 | | |
| Toxic Cherry Bomb x Agent Orange | | ~58 | | |
| Toxic Cherry Bomb x Hammer Juice | | ~55 | | |
| Toxic Cherry Bomb x OG Kush | | ~55 | | |
| Toxic Cherry Bomb x Peyote Cookies | | ~60 | | |
| Toxic Cherry Bomb x Triple Cheese | | ~57 | | |
| Toxic Cherry Bomb x ZZ Punch | | ~60 | | |