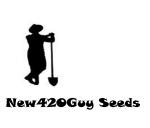 New420Guy Seeds: Trainwreck
Here you can find a strain description about Trainwreck and also some user-based reviews and infos directly from the SeedFinder (if available). You can also find the offers and auctions here if Trainwreck cannabis seeds are on stock at MyCannapot right now.
Type: mostly sativa
Flowering time: ~ 60 days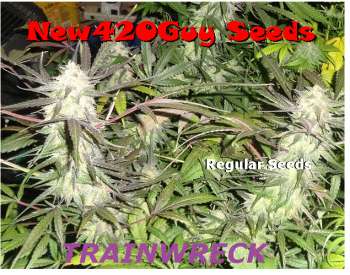 more pictures
SeedFinder Info about the strain Trainwreck from New420Guy Seeds:
Trainwreck F4s NOW AVAILABLE! Trainwreck has always been a very popular strain, so we added it to our inventory in 2012, and it has been one of our best selling sativa hybrids ever since. This strain of Trainwreck came from a clone and was crossed with an AK47 male. She has a very strong smell and produces lots of thick sticky colas. Trainwreck is a very heavy yielder, great for breeding, and it's a great night time high. Trainwreck is a high THC / low CBD hybrid strain good for pain, stress or insomnia. Also good for PTSD, ADD and ADHD. Flowering period is 8 to 9 weeks. CannaMetric Profile (Lab test) 22 Nov-2017 (Outdoor crop) THCA: 15.7%; Delta-9 THC: 1.2% Total THC: 16.9%
2 user reviews about this strain
General Impression: extraordinary and quite recommendable
2 Indoor-Review(s):
General Impression: extremely good and very recommendable
Yield / Quantity: high
Flowering Time Indoor: 40 - 40 days (~40 days)
User-Comments about this strain:
Lewdog970 How can this be train wreck if it's train wreck crossed with ak47its not true train wreck and needs renamed
Ramones123 I bought 3 of these guys from 420seedguys and 1 turned into male, and others turned into female. 1 didn't make it, the others did. The male found is a very good product that has sooooo much pollen and,grows super fast. The female is nice as well and not overly growing like the,male.
46nkid I did not get to harvest this beauty, due to the fact that "she" turned out to be a he. However, I was very, very impressed with not only the strength of this plant (it withstood a soil ph of 8.7 for weeks with barely any visible problems, and it took the brunt of your normal, everyday, high temperatures. Like 105F (40C) as a seedling.) but the trichome production as well. As I turned it into mulch to be added into my compost pile, it made my hands rather sticky, pretty impressive (I think) for a two week old male. If it would have had a more pronounced aroma, which only became evident at all to me when I was ripping it apart (and believe me, I checked and checked for a smell), he would have been put into his own area until he shed that pollen. Ahh well. This was a very good introduction to New420Guy Seeds, getting a male that was this desirable, but I am hoping for a female in my next run of Trainwreck to see what she can really do.

I also tried to pop the Blue Tahoe and OG48 last week ago for the run that is vegging now, and both popped to give me very healthy looking seedlings. Will post updates about them when finished. So far I am impressed with this company and recommend them fully.
Buy Trainwreck now at MyCannapot!
Actual offers:
3 reg. Seeds

only 11.37 $