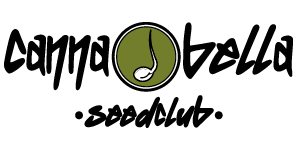 Cannabella Seed Club: Strawberry Cream Pie
Here you can find a strain description about Strawberry Cream Pie and also some user-based reviews and infos directly from the SeedFinder (if available). You can also find the offers and auctions here if Strawberry Cream Pie cannabis seeds are on stock at MyCannapot right now.
Type: mostly sativa
Flowering time: ~ 56 days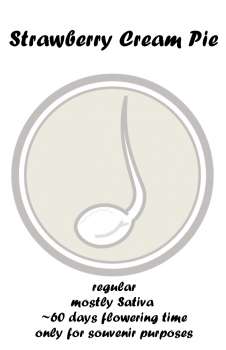 more pictures
SeedFinder Info about the strain Strawberry Cream Pie from Cannabella Seed Club:
We selected a strong strawberry candy smelling female with big calyx,
early and abudant resin production, fast finishing time and a thai look with a not so strechy
growth out of Eskobar's Chocolate Rain F1.
This choosen lady, we pollinated with a sweet, berry and cream smelling male
with the same growth charateristics.
Our used male has a lot of very big male flower clusters, sticky stems and produces a huge amout of pollen dust.

Its easy to find a outstanding motherplant in these seeds with sweet candy/fruity/pie flavours.
The yield grown from seeds is good also with selected cuttings. The bud quality is supreme.
Be careful with fertilizer, she likes low EC.

Genetic: ChocolateRain#2 x ChocolateRain (F2)
Flowering: ~56 days
Yield: 450-600 g/m²
Tasteprofile: sweet, strawberry, candy, cream, cake, pie, bubblegum, skunk, cherry
Effect: smooth body and head high
Strawberry Cream Pie is not available at our shop at the moment!
Please try again later, maybe it is restocked again soon!