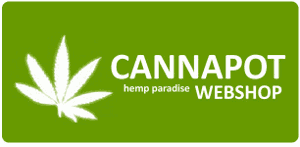 Cannapot Specials: Big Kahuna (Soma)
Here you can find a strain description about Big Kahuna (Soma) and also some user-based reviews and infos directly from the SeedFinder (if available). You can also find the offers and auctions here if Big Kahuna (Soma) cannabis seeds are on stock at MyCannapot right now.
Type: mostly indica
Flowering time: ~ 56 days

SeedFinder Info about the strain Big Kahuna from Soma Seeds:
BREEDING: Big Bud - Skunk #1 - Afghani-Hawaiian
Indica: 80% Sativa: 20%
MINIMUM YIELD: 20-25 grams
FLOWERING: 8 weeks

Big Kahuna is a good plant for first time grower`s, it doesn`t branch out too much and has a very large top bud. The smell is very skunky and needs very good smell control in your growing and drying rooms. The flowering time is 8 to 9 weeks. It needs good ventilation as the top bud is very dense and can get mold on the inside, with proper ventilation it does just fine. Strong skunky aroma and flavor. Mellow high.
2 user reviews about this strain
General Impression: extraordinary and quite recommendable
Strength / Lasting Effect: is very strong and long lasting
2 Indoor-Review(s):
General Impression: a quite good strain
Yield / Quantity: high
Flowering Time Indoor: 50 - 60 days (~55 days)
User-Comments about this strain:
TheBomb OK this is a variety I really want to grow to see how much she can yield, Seeds are really expensive $12.50 US each so far I have ordered 25 and only 2 have popped and even they look on the sad side, I never have trouble with seeds, so I'm assuming they are really old seeds, even tried sand paper, GA3 and still no luck. I have spent enough money for disappointing results.

Ordered my seeds from attitude and OA seeds both no GERMINATION.

Spoke to Soma about the problems I've had and Soma has re sent 10 more seeds so straight into water they go.
zels420 Run a big carbon filter whit this one !! a few grams of this dry smells like you got a kg , spider mite love this stuff. mold can get out of control fast if hum goes above 55%
Buy Big Kahuna (Soma) now at MyCannapot!
Actual offers:
There are no actual offers at the shop right now, but check out the auctions below!