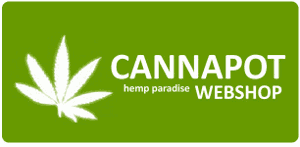 Cannapot Specials: White Widow (White Label)
Here you can find a strain description about White Widow (White Label) and also some user-based reviews and infos directly from the SeedFinder (if available). You can also find the offers and auctions here if White Widow (White Label) cannabis seeds are on stock at MyCannapot right now.
Type: indica/sativa
Flowering time: ~ 58 days

SeedFinder Info about the strain White Widow from White Label:
The backbone of the Dutch coffee-shop industry, the first of the `white` strains and an all-round commercial success story, White Widow is one of the most famous names in modern growing. While this is partly due to the memorable name, her speed, yield and stunningly thick resin coating have a lot more to do with it!

Mostly-Indica, with sweet, thick, acrid smoke that imparts a hammering stone, White Widow is a major part of many visitors` first experience of Amsterdam.

FLOWERING: 50 - 65 DAYS
HEIGHT: 110-150cm
YIELD: up to 150g
Feminised Indica/Sativa
10 user reviews about this strain
General Impression: extremely good and very recommendable
Strength / Lasting Effect: is strong and long lasting
The weed effect
Head Activating Relaxing Body Calming Couchlocking Sleepy Narcotic Appetizing
The taste / flavour of this variety recalls onto / is
Sweet Floral Sour Citrus Sweet Lemon Spicy Hot
9 Indoor-Review(s):
General Impression: extraordinary and quite recommendable
Yield / Quantity: great
Flowering Time Indoor: 61 - 66 days (~63 days)
Stretch after the initiation of flowering: ~221 Percent
Initiation of flowering onto around 34 cm. - Final Height onto around 109 cm.
1 Outdoor-Review(s):
General Impression: insane strain - absolutely recommendable
Yield / Quantity: insane high and absolutely top yields
Harvest Time Outdoor:
...in ClShβ zones: Middle of October ()
User-Comments about this strain:
DerDepressive Sorte: White Label White Widow regulär

Keimrate: 9 von 10 (davon waren 6 weiblich und zwar ohne Zwitterei)

Medium: (6x) 3,5l Pots befüllt mit Plagron Grow Mix

Ort: 60X60 Zelt

Licht: 150W HPS

Vegetative Phase: 23 Tage 16/8 mit 36W LED Vollspektrum Lampe in 0,125l Anzuchttöpfen (Ergebnis ca. 15cm Höhe und ca. 3 Blattpaar).

Blühende Phase: 67 - 70 Tage 12/12 mit 150W HPS in 3,5l Töpfen (Ergebnis: ca. 60 - 100cm Höhe)

Die White Widow wächst sehr langsam in der vegetativen Phase, doch sie explodiert regelrecht, sobald man auf 12/12 stellt. Der Stretch betrug (je nach Pflanze) das 4 bis 6fache. Damit habe ich nicht gerechnet. Die Pflanzen sind (wie erwähnt) unterschiedlich hoch und es scheint mehrere Phänotypen zu geben. Das Geschlecht war ab der zweiten Blütewoche erkennbar. Die männlichen Pflanzen wurden sofort aussortiert, sodass die 6 verbleibenden, weiblichen Exemplare noch genug Zeit hatten, den Platz des ganzen Zeltes (0,36qm) auszufüllen. Ich habe verschiedene Gegenstände verwendet, um die Pflanzen in etwa auf gleiche Höhe zu bringen. Die White Widow braucht viel Dünger! Die normale Plagron Grow Mix in den 3,5l Töpfen war unzureichend. Nährstoffmangel trat ab der 6. Blütewoche auf. Die von White Label angegebene Blütezeit ist eindeutig zu kurz, doch das Warten lohnt. Das Ergebnis ist eines der besten Gräser, die ich je geraucht habe und die Erntemenge ist auch mindestens XL, wenn nicht XXL. White Widow wirkt entspannend, jedoch gleichzeitig anregend und es stellt sich ein allgemeines Wohlbefinden/Zufriedenheitsgefühl ein. Die White Widow ist mir (nur) noch von Dutch Passion bekannt und es in der Tat außerirdisch gut, obwohl es modernere Züchtungen geben mag, die viel höhere THC-Werte aufweisen, kenne ich bislang keine, die auf diese ausgewogene Wirkung kommt. Diese Old-School-Genetik findet ihre Berechtigung auch noch im Jahr 2020.
mischu1984 6 Weiber, 4 Männer bei 10 Samen. Alle Männer haben gezwittert (wollte Samen herstellen) von den Weibern haben nochmals 3 gezwittert also für White Label Samen ein Armutszeugnis! Würde ich nicht mehr kaufen! Wirkung war toll aber nicht spektakulärer als eine gute Skunk.
Ashtonkusher benötigt zwar viel dünger, ansonsten eigentlich easy to grow. zwei phänos. der eine wächst ca 50% höher und ist etwas weniger stark in der wirkung.ansonsten sind mir keine unterschiede aufgefallen. bildet monster fette headbuds und sehr viele seitentriebe die alle fett bewachsen sind . vom ertrag her das beste was ich bisher hatte! der geschmack ist wirklich super und kommt überall gut an- fruchtig aprikose. die wirkung ist ein mächtiges stoned, sehr entspannend bis narkotisch mit deutlich spürbarem sativa effekt im hintergrund

für jeden der auf indica steht ein absolutes must have!!! die beste widow die ich bisher probieren durfte!
White Widow (White Label) is not available at our shop at the moment!
Please try again later, maybe it is restocked again soon!