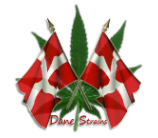 Dane Strains: Blue Dwarf
Hier findest du eine Sortenbeschreibung über Blue Dwarf und auch Bewertungen von Benutzern die im SeedFinder ihre Meinung zu dieser Cannabissorte abgegeben haben. Hier kannst du auch Angebote und Auktionen finden sofern Blue Dwarf bei MyCannapot auf Lager ist.
Art: ruderalis/indica
Blütedauer: ~ 63 Tage
von der Keimung bis zur Ernte - Autoflowering Sorten!

Sorteninformationen vom SeedFinder über Blue Dwarf von Dane Strains:
In the Blue Dwarf cross, we have taken two of our favorite auto varieties, we mixed Mdanzig's Blue Streak with an auto white dwarf that resulted in a somewhat larger plant with an indescribable bigger yield. Blue dwarf species by being between 50-80cm with a GREAT main cola and side branches with rock-hard buds with a remarkable trich production.

Blue Dwarf is completed in 8 weeks from seed is germinated, we recommend that you give it at least 9 to 10 weeks to get a higher yield and make her more potent. The smoke is the characteristic blueberry flavor, with hashy undertones and a hint of grapefruit. The effect occurs already in the first few inhalations, and links you to the couch almost immediately. A real hard hitter and a great beginner plant.
Kaufe Blue Dwarf bei MyCannapot!
Aktuelle Angebote:
13 reg. Seeds

nur 18.25 $
Aktuelle Auktionen:
Aktuell gibt es keine laufende Auktion von Blue Dwarf .