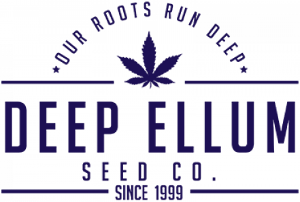 Deep Ellum Seed Company: Jolly Grape
Here you can find a strain description about Jolly Grape and also some user-based reviews and infos directly from the SeedFinder (if available). You can also find the offers and auctions here if Jolly Grape cannabis seeds are on stock at MyCannapot right now.
Type: indica/sativa
Flowering time: ~ 63 days

SeedFinder Info about the strain Jolly Grape from Deep Ellum Seed Company:
Reissue of the infamous turn-of-the-century Dallas Grape. In 2004 when we retired the Grape, we made S1's. So for the reissue, we pulled the S1's from our vault and selected a killer female at the starting point. Rather than simply making S2's, we chose to instead create a regular line. We used our IBL of '89 TSB NL#5 as the male and made an F1.
After we made the initial (Grape/NL5) F1, we backcrossed to the Grape. Although the F1 had outstanding vigour, not all were grapey. In the F1BX, however, a greater number will be representative of the true Dallas Grape.
The resulting hybrids are stout, sturdy plants that smoke with a happy, balanced stone. Tastes like grape-flavoured hard candy.

Regular seeds only: (Dallas Grape IBL)S1 x ((Dallas Grape IBL)S1 x '89 TSB NL#5)F1

60-65 days
350-400g per m2
Buy Jolly Grape now at MyCannapot!
Actual offers:
3 reg. Seeds

only 24.50 $
Running auctions:
There are no actual running auctions for Jolly Grape right now.