MadCat's Backyard Stash: Medi Ghost Train
Hier findest du eine Sortenbeschreibung über Medi Ghost Train und auch Bewertungen von Benutzern die im SeedFinder ihre Meinung zu dieser Cannabissorte abgegeben haben. Hier kannst du auch Angebote und Auktionen finden sofern Medi Ghost Train bei MyCannapot auf Lager ist.
Sorten-Info:
MadCat's Backyard Stash - Medi Ghost Train California outdoor hybrid that flowers ~11 Weeks. Will Grow Tall depending on available light. 7' or taller. Mostly Sativa Looking. Smells of fruit and dank indica. Some stems turn purple with slashes of red in the leaves. 50% are Purple/Blue in color. Be careful with the light's for you indoor grower's.. This plant will turn over into Veg stage after flowering... And Outdoor grower's should start them late spring to avoid Flower to Re-Veg issues. (Large Plant)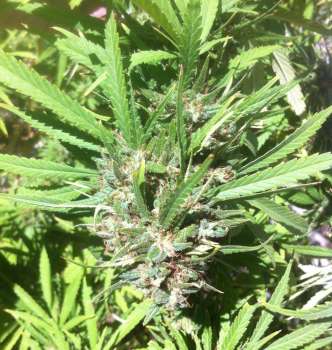 Genetik:

mostly sativa

Blütezeit:

~ 75 Tage
Medi Ghost Train ist im Moment nicht in unserem Shop erhältlich!
Bitte versuche es etwas später - vielleicht gibt es die Sorte bald wieder bei MyCannapot!