MadCat's Backyard Stash: Medi Ghost Train
Aqui encuentras una descripcion de la variedad Medi Ghost Train y ademas evaluaciones de usuarios que han publicado sus opiniones sobre esta variedad de cannabis en el SeedFinder. Aqui puedes tambien encontrar ofertas y subastas si Medi Ghost Train esta en el almacen de MyCannapot.
Informaciones sobre la variedad:
MadCat's Backyard Stash - Medi Ghost Train California outdoor hybrid that flowers ~11 Weeks. Will Grow Tall depending on available light. 7' or taller. Mostly Sativa Looking. Smells of fruit and dank indica. Some stems turn purple with slashes of red in the leaves. 50% are Purple/Blue in color. Be careful with the light's for you indoor grower's.. This plant will turn over into Veg stage after flowering... And Outdoor grower's should start them late spring to avoid Flower to Re-Veg issues. (Large Plant)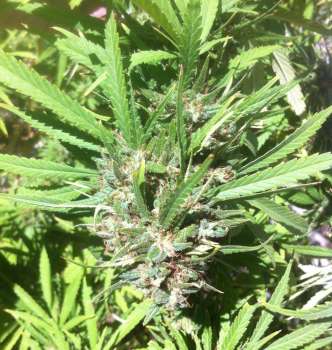 Genetica:

mostly sativa

Tiempo de floracion:

~ 75 Dias
Medi Ghost Train actualmente no esta disponible en nuestra tienda!
Intentalo otra vez mas tarde - quizas la variedad estara disponible muy pronto en MyCannapot!