Mudro Seeds: Ridick
Aqui encuentras una descripcion de la variedad Ridick y ademas evaluaciones de usuarios que han publicado sus opiniones sobre esta variedad de cannabis en el SeedFinder. Aqui puedes tambien encontrar ofertas y subastas si Ridick esta en el almacen de MyCannapot.
Especie: indica/sativa
Floracion: ~ 65 dias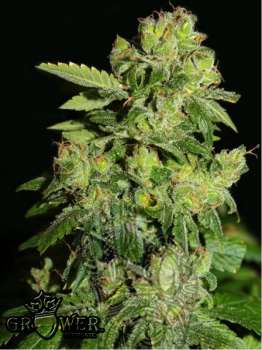 Informaciones sobre la variedad Ridick de Mudro Seeds en el SeedFinder:
We offer you a hero who could conquer the entire universe.

Meet -Ridick. This hybrid was not limited to the best qualities of their parents (Northern Light * AK-47 * Skunk # 1), so it can boast of its specific properties.
Sort of like his endurance and unpretentiousness, combined with high levels of THC. This space fighter who brings in the capable hands of goodness and beauty, starting to create instead of destruction. But do not expect constant obedience, Ridick happens and sharp.
The variety has average height and versatile in planting. With him will just make friends for both novice and seasoned "galactic researchers." Ridick truly happy space yields, namely about 350-650 grams. m2. Exterior grade as it reminds us that we are dealing with a "stranger", and its unique taste once again convinces us of extraterrestrial origin. Perhaps that is why the variety came quickly as favorite new series from producer.
Ridick excessively proud and does not tolerate interference in the process of growth. Want to make friends with him - do not trim the young shoots. Otherwise, you may get are not the same size of the inflorescence from the offended person. It is beautiful and has a lush canopy. But if you really want to experiment with the FIM. trimming, remember, the universe is big and it sometimes miracles happen.
What else is there especially in Ridick? He can see in the dark! This ability came from the need to constantly be on guard, to the pain and anxiety are not able to penetrate into our world.
Here's a he unearthly handsome, comes to nm from another universe and brings a new rhythm and tranquility.
Compra Ridick en MyCannapot!
Ofertas actuales:
15 fem. Seeds

solo 1004.24 Kč

50 fem. Seeds

solo 2485.50 Kč
Subastas actuales:
50 fem. Seeds

a partir de 1481.26 Kč

Final de la subasta: = 14 d