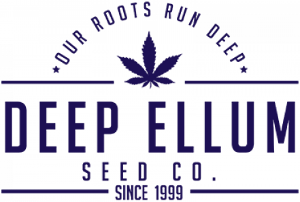 Deep Ellum Seed Company @ SeedFinder
Deep Ellum Seed Company
The Deep Ellum Seed Company is a small family-owned and operated collective comprised of first, second and third generation farmers Our family first began producing cannabis seed for the local market in 1966. Three decades later, the torch was passed onto the second generation and in 1999, the Deep Ellum label was established. In 2008 we opened our vault to the world for the first time and released a single strain called The Black, which High Times named a Top 10 Strain of the Year. In celebration of our 20-year anniversary, we officially re-opened our vault on April 20, 2019 and began offering our genetics to the public once again. Over the coming year we will be stocking multiple strains including brand new hybrids, old-school/new-school mash-ups, as well as re-issues of some our personal favourites from the past two decades.
Strains from Deep Ellum Seed Company
Have a click on a strain to get more informations and special offers.