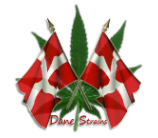 Dane Strains @ SeedFinder
Dane Strains
Dane Strains was created in 2010 by two Danish friends. We Decided to make our own auto strains with a low price for other growers. That became very exciting, so we decided to make some other new regular strains and some new auto strains with bigger yield and more potent. We have only high grade seeds, and we test all our strains before they hit the market. We have both in and outdoor seeds, that can be grown in Scandinavian up to a latitude of 55° and even higher.
Cannabis-Strains von Dane Strains
Klicke auf eine der Sorten um mehr Infos und eventuelle Angebote einzusehen.
| Sorten-Name | | | | |
| --- | --- | --- | --- | --- |
| Blue Dwarf | | ~63 | | |
| Blue Matic | | ~70 | | |
| Blue Widow | | ~50 | | |
| BubKush | | ~63 | | |
| Candy | | ~63 | | |
| Caramellow: AK47 Auto + Candy Auto | | ~70 | | |
| Dane's Fruity | | ~63 | | |
| Dane's Gum | | ~60 | | |
| Gum Lock | | ~63 | | |
| Matic Light | | ~70 | | |
| White Pineaplle | | ~63 | | |